I love when performance art and hardcore science meet.
Enigma
is a petunia that was genetically engineered by the artist
Eduardo Kac
.
Enigma
is a normal petunia except its genome contains one of Kac's genes, specifically the gene called
IGK.
This gene encodes for part of the imunoglobulin protein which functions in our immune system. Kac engineered
engima
so that it expresses his
IGK
gene, but only in the flower's veins. He did this by first cloning the IGK gene behind a promoter from a plant virus which is usually only turned on in plant veins. This is a rather simple but cool project that can be carried out in most plant molecular biology labs.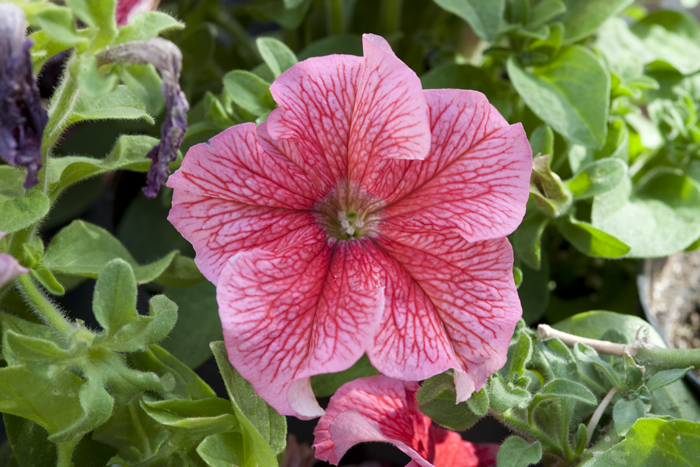 Eduardo Kac, Natural History of the Enigma, transgenic flower with artist's own DNA expressed in the red veins, 2003/2008. Collection Weisman Art Museum. Photo: Rik Sferra.
In the picture or enigma the red color signifies where his IGK gene is being expressed. While this is visually pleasing, its also a bit misleading, leading the unwary reader to think this "red" is due to blood.
While Kac isolated his IGK gene from his own blood,
imunoglobulins are colorless. The reason enigma's veins is not due to Kac's gene, but rather due to a plant gene which controls the expression of genes necessary for making anthocyanins, the plant's red pigments.
Kac calls enigma
a "plantimal, a new life form [he] created that ... is a hybrid of myself and Petunia".
This is also could be misleading. Enigma is not a "hybrid", which implies a true mixing of parts [see comments below]. Enigma is at best 0.003% Kac, 99.997% petunia. Considering that plants contain many genes normally thought of as human, such as BrcA and Cftr (encoding the genes for breast cancer and cystic fibrosis), perhaps all plants are actually "plantimals". Or maybe c
onsidering that humans normally contain many genes originally thought of as plant, such as
Det1
and
Cop9
(genes necessary for photomorphogenesis, plant development in the light), maybe we ought to be considered "aniplants"?
In any event, I think Kac is to be applauded for pushing the boundaries of art and science, and for carrying out research project which well exemplifies how genetic engineering works! If you're interested, you can by your own
enigma
seeds on Kac's website.